About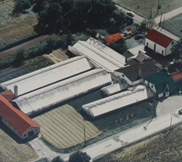 Nye's is a local family owned and operated business serving the Harrisburg area for over 100 years at the same location. Back in 1909, William F. Nye sold farm produce, meats, shrubbery, plants, and cut flowers. At some time in the early 30s Mr. Nye started adding greenhouses to the business and turning the working farm into a full service florist and greenhouse operation, a total of seven glass covered greenhouses were built. Mr. Nye's only son, Luther W. Nye became a part of the business which was then called William F. Nye and Son florist.

In 1958, Luther took over the business and changed the name to Nye and Son Florist. Nye's did open a second location closer to the city at 2650 Walnut Street in Harrisburg, just a small store front for fresh flowers and plants. During the Holiday seasons, Nye's also sold their many of their products at the local farmers markets. In 1979, with the sudden death of Luther W. Nye, his daughter Joan, one of his three girls took over the business with her husband William Bailey and her son Bill. Mulch was added to their product line in the 1980s. With the growth of housing developments in the area and Nye's located in just about the center of it all, the mulch sales took off very fast. So much so it went from two bins of mulch to eight bins within five years. In 1997, the floral and greenhouse business was closed to focus on the mulch sales with Bill Jr. now running the business along with the help of many family members over the years.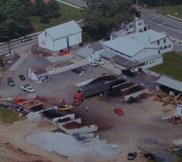 In January, 2004 Bill brought in some much needed help to the business, his cousin James H. Bailey III. Jim had been helping out over the years and was now brought into the company as a business partner. With Jim's history in production control, materials and purchasing experience, and his interest in the mulch Industry, it was a great addition for the growing business. In 2009, we celebrated our 100th year as a family own and operated business, and we were still growing. We have many grades and colors of mulch to choose from. Along with the mulch we also sell true mushroom soil straight from the mushroom houses of Avondale, P.A. and aged compost soil from local area horse farms for all your garden needs. Topsoil is another product that we handle and in 2005 we started screening our own topsoil right here at the yard. Decorative stone is available in many sizes and colors, as well as limestone for all your driveway and construction needs. Delivery fees are based upon location and there is a two unit of product minimum. With five trucks and a large delivery area from Harrisburg to Hershey, Linglestown to Grantville, and Colonial Park to Hummelstown, we've got you covered. We are a retail and wholesale operation serving many local Landscape contractors and builders in the area.